STORCI R&D LAB: IN THE HEART OF EXCELLENCY
We interviewed Alessio Marchesani, Food Technologist and Supervisor of Storci R&D Lab: between one test and another, he allowed some of his time. You can feel his enthusiasm, the projects are so many and are needed to strengthen the experimental soul of this Company, as well as expanding the range of products that Storci can boast and offer.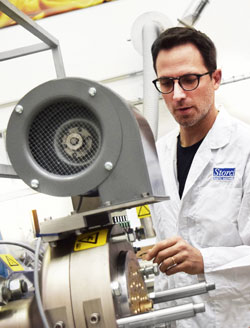 Which are the most frequent requests received in the last few years?
We have been working for a long time with flours coming from rice, legumes such as chickpeas and lentils or gluten-free cereals such as corn, for all those markets aiming to those people who are food intolerant or have full-blown diseases or are simply health enthusiast - always looking for alternative foods with less traditional nutritive principles - or just want to try different tastes. We will soon carry out some tests that will enable us to identify the implementations to be made to traditional machines, e.g. setting a machine for cooking flours too.
Does it mean that there will be new scenarios in the pasta market?
It does. There's a continuous search for new products and this is what those Customers, trying to differentiate, are doing, making specific products which stand out for high quality, short supply chain and 0 km.

Are the requests different, depending on the markets of origin?
We often receive requests from foreign countries trying to make pasta traditionally although using local raw material, thus causing a lower end product performance.
With reference to this kind of requests, what does Storci offer?
We offer the expertise of our skilled Staff and our Lab machinery, so that Customers can appreciate the product during the study phase; afterwards, we conceive a concrete project. This way, we can identify the best raw material on the market and consequently the most advantageous technology and eventually the line most suitable for that production. Henceforward, the project becomes operational, because we can test it by means of samples distributed to Chefs, Mass Retail Channels, laboratories, restaurants and canteens.
.. what about the weirdest request?
That one referred to non-food products or products used in the pharmaceutical sector. The new trend is testing vegetal mixtures/blends to create products that wink and nod to environmental awareness. This confirms that Storci is already going towards the future.

.