STORCI & ANTONIOU BROS: TECHNOLOGY AND TRADITION


We recommend an interesting interview to Jean and Babis Antoniou, owners of Antoniou Bros Group that, since 1895, has been producing high quality pasta combining the latest mechanical technologies with secret recipes to supply both the Egyptian and international markets with excellent products.Connected by a long-term friendship, Jean Antoniou and Anzio Storci turned this emotional bond into a business relationship, when Antoniou purchased six lines for the production of long-cut, short-cut and nested pasta.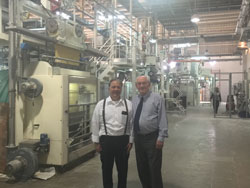 Could you tell us in a nutshell the story of your Company?
Since 1895 the Antoniou family has been managing one of the most important pasta factory in Egypt until the beginning of the 21st century when a new specialty premium pasta factory was built by our fourth generation.
Antoniou Bros. Company for Food Products produces high quality pasta for the Egyptian and international markets combining artisan experience, passion, tradition and the newest technologies and equipment from all over the world.
We believe in improvement and investment and plan to streamline the supply chain and manufacturing process. Our Company is the leading specialty pasta manufacturer in Egypt offering multiple retail and bulk sizes.
How much does making a high-quality product mean to you?
Quality is our competitive advantage and it is made possible by using Storci presses. Not only is quality a characteristic of our pasta but it is also a feature of the machine used to produce it, that means less downtime and more reliability to work 24/7.
Why did you choose Storci to produce your pasta? What is, in your opinion, the added value of this Company?
We have put our trust in Mr. Storci for over 35 years when we bought our first machines. We recently purchased six Storci presses including long, short-cut and nest pasta.
When buying high-end quality machines, it is essential to rely on a selected company such as Storci, whose experience and competence are well known worldwide.
The added value of Storci is the high uptime of their long-lasting machines. Besides the customer service always guarantees on-site assistance throughout the year whatever the season.
A reliable partner is the key to a successful business.
What are your projects for the future?
Increasing the production of long-cut pasta and keeping in touch with Storci for any implementations directed to perfect the quality and simplify the process of pasta production