Standard short pasta
Penne


Special short pasta
Paccheri


Optional bow tied pasta, Bologna shape


Optional nested pasta
Penne, fusilli, paccheri, conchiglioni, nests and lasagna: SHORTPASTALINE is the pasta plant with a production ranging from 100 to 1200 kg/h, that enables you to diversify your product catalogue. The dough preparation using the pre-kneader PREMIX® and the tank total vacuum technology give a great colour to the pasta, whereas the special outline of the compression screw minimizes the dough heating up, assuring at the same time a better quality of the dough and streamlining the energy consumption. The line, equipped with the Nest and Lasagna pasta machine, can automatically produce nests and lasagna. At the beginning and at the end of the line, you can automate all the trays monitoring all the way to the loading of the trolley, thanks to the trays unstacking and stacking machines ROBO/XD and ROBO/XI.


Play the video

Many solutions according to your needs
Short pasta line can be set up according to your needs. There are several available choices that make it adaptable to any need, either you like to produce standard shapes or nests and lasagna.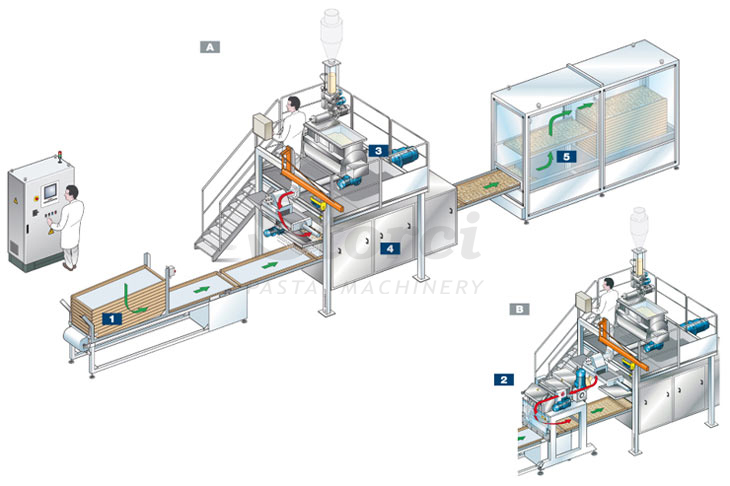 Legenda
1

Trays feeder AT-12.60

2

Nests and lasagna machine NEST-540/L

3

VT Press with circular head

4

Short pasta pre-drying shaker with trays inside passage

5

Trays automatic stacking machine ROBO-T 12.60

A

Short pasta production

B

Nests and lasagna production